03.09.2019
MONACOPHIL 2019: Hot off the press!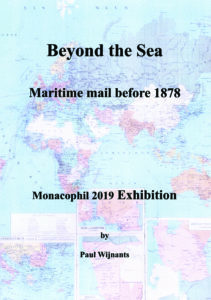 Dear philatelist,
Conc.: Special MonacoPhil Exhibition book.
Monacophil 2019 is coming soon.   Within 12 weeks, the most wonderful biannually philatelic event will take place.  Beside "Egypt" as a general topic, we'll also have "Maritime mail before 1878".
For this special occasion, Paul Wijnants edited a wonderful 140-page hard cover exhibition book. This book will not only will show an anthology of all these superb collections with wonderful illustrations and descriptions.  But it also contains an annex of 7 articles with new maritime postal historical research.  Four of the 7 writers are RDP's, the other three are IPHF fellows.  So, we'll serve you the best in the business!
This book deserves its place in everyone's library.  So, don't miss it and order it now.
Since the printed quantity is very limited, you can pre-order your copy to be sure you're one of the lucky philatelists who will own a copy.  Just send us an email to confirm your order.  The price will be €30.  For those who can't pick up their book in Monaco, they can have it mailed out for an extra postage of only € 12.   Members of the Belgian Academy can pick it up at the December meeting.
Payment can be done at the following account and mentioning "Exhibition book":
Bank KBC : IBAN BE56 7360 3798 7688 – BIC KREDEBB.
PayPal: paul.wijnants@scarlet.be  (+ add € 2 for costs)
Need more information? Please mail to paul.wijnants@scarlet.be or phone 0032/496.02.61.50